Inclusion Training is a registered training organisation (RTO) offering learning and education services for people with intellectual disability, as well as offering training for those wishing to gain a qualification in the disability sector.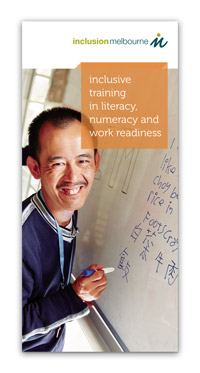 Inclusion Training welcomes new students. If you are looking for high quality education services for a client or family member with a cognitive impairment, we welcome your expression of interest.  We also deliver  CHC33015 Certificate III in Individual Support (Disability) for those who would like to gain a qualification within the disability sector.
Students who attend Inclusion Training benefit from the high quality and relevant education they receive, delivered within an environment that engages, extends and supports.
Our Learning and Education services focus on the education and social development of students, so as to prepare them for further study, employment and participation in society. The programs are delivered from a range of community facilities, so as to encourage opportunities for interaction with other community members. Where possible, activities will also be undertaken through work or community placements.
With over 10 years experience as an RTO for people with cognitive impairments, our highly regarded education service is based on leading edge research on best practice in education of people with cognitive impairment.
This model enables each person to learn at their own pace, supported by a trained volunteer tutor. Working in classes of a maximum of 12 people, trainers are able to devote significant time with each student.
Training and Education
Learn at your own pace. It's about achieving in your time. It's your achievement.
Inclusion Training runs various accredited and non-accredited courses specifically tailored for people with an intellectual disability. A team of committed and trained volunteer tutors work one-to-one with students to provide support where needed.
Choosing the right organisation to suit your learning needs is an important decision. Learning with Inclusion Training has many benefits which you may like to consider.
You can:
Learn at your own pace
Study a curriculum which is suited to your individual learning needs
Learn in an intimate class room setting with no more than 12 students per class
Be taught by a qualified and experienced teacher
Be supported by volunteer tutors with a desire to teach
Home tutors also available
Celebrate your achievements at the annual presentation event
Tutoring
Some students choose to dedicate extra time to their studies outside of the classroom and for this you may require some additional support from a volunteer tutor in your home.
Home tutors are available to support students in their literacy and numeracy studies and provide tutoring in specific subjects such as computer skills and languages. Tutors are recruited specifically to support a particular individual, therefore factors such as where people live and shared interests are also considered.
If you would like to read more information about Inclusion Training, visit the Inclusion Training website or call 9509 4266.